Scriptwriting is the art of storytelling through written words or other means for films, stage plays, radio dramas, live productions, or any other type of show audiences can watch or listeners can tune into.
It is the composition of text for a play, film, or theater. Scriptwriting takes on the responsibility of keeping in mind everything in the script from dialogue to scene descriptions, camera angles, and transitions between scenes.
It's used to communicate information about actors, costumes, sets, and other aspects of production to those who will be involved in film or performance productions.
Radio Dramas
Radio dramas or plays are dramatized, acoustic performances. They depend fully on audio elements like dialogues, music, and sound effects to bring stories across to their listeners, and to help them imagine it's characters, the setting, and how the story is unfolding. The stories and plays you hear on the radio can cover a range of styles, such as original plays, docudramas, fictional stories, musical theatre, opera, and a range of genres such as crime, horror, supernatural, political, and psychological.
The "key ingredients" of radio dramas have a large similarity to those of stage dramas. These elements include :
Multiple roles/characters
A specific time
A specific place
Actions
Points of tension
Focus points - Ideas, emotions, certain characters that the writer wants listeners to concentrate on in a particular moment.
A radio play script follows a distinctive format that allows the writer to convey how sound and music will be used throughout the entire show. Some general guidelines include :
One page of radio dialogue being approximately equivalent to 1 minute of air time
Scenes in a radio drama script should be numbered
Lines are to be double-spaced
Sound/Music cues are triple-spaced
Paragraphs are triple spaced
All cues are to be capitalized, underlined and and numbered. Cue numbers start at number 1 on each page
Character names are to appear capitalized
Dialogue begins on the same line as the character name
While the above formatting guidelines span across the different styles radio dramas that one could embark on, there are some specifics that vary from format to format. Elements such as the page headers, where you place contact details, where you state the scene number vary across these templates. Depending on which style of radio drama you choose to work on, the following templates by JotterPad lay out their respective formatting requirements for you.
Podcasts
A podcast is a series of audio episodes that are mainly focused on a particular topic or theme that is carried throughout. They are, at it's core, a digital audio file that you can download or listen to over the Internet. But podcasts have since developed to be an extremely popular form of audio entertainment and are no more just downloadable radio shows. Today, podcast series, created by a host and then published episodically online, can be listened to by subscribers and downloaded thereafter as well.
There are multiple kinds of podcasts you can write or tune in to. These include news, interview, audio-drama, and roundtable podcasts, amongst others. While the nature of, and the topics that would be covered in these podcasts can vary, the script structure and the way in which they are presented share some essential elements across the board.
These elements include :
Opening Jingle or Music - A short 7 to 10 second piece of music that first plays when someone tunes into your podcast.
Opening Introduction - Podcast intros are meant to establish and give your episode character and personality.
Sponsor message - Podcast sponsors, or advertisers, could approach you and offer payment to promote their goods or services over your podcast episodes. These sponsor partnerships are a powerful advertising tool for companies and brands. At the same time, they are also a very effective monetization strategy for podcasters.
Segue - Segues serve the function of making your podcast flow between various topics you may be discussing, or between segments. Segues can be a phrase that you say, a short sound effect, or a musical jingle that you place in appropriate places that help you transition smoothly.
Outro and Closing Remarks - Outros are a short, and succinct section that you incorporate to express your thanks to your listeners for tuning in to your podcast.
Call to Action - These are quick and clear announcement that you make that requires action from your listeners. Your call to action and what it contains will change, according to the guests you have on your show, the episode's content, and the sponsors you may engage.
Podcast script templates, of different styles, can add versatility to the type of work and writing you can achieve, Explore the following Podcast templates, and the scripts and structure that they offer to create your own vlogs, YouTube videos, or start your very own podcast.
This News Podcast template can help by highlighting essential elements like the introduction, intro music, closing remarks and others that make a good outline for you to create your own informative News podcast script.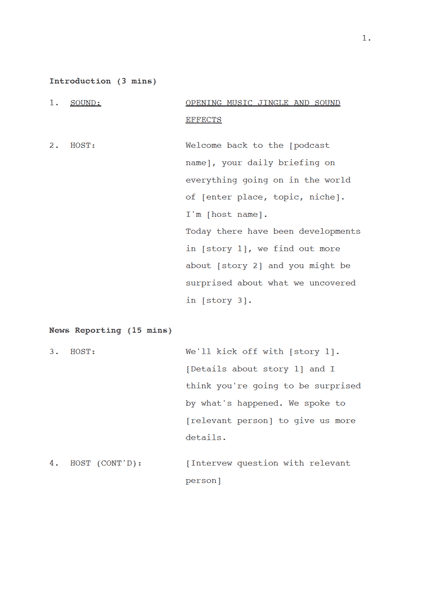 The Interview Podcast script template can serve as a guide for you to properly introduce your guest, get through questions, give you cues for into and outro music, and other podcast elements that may be a hassle to remember.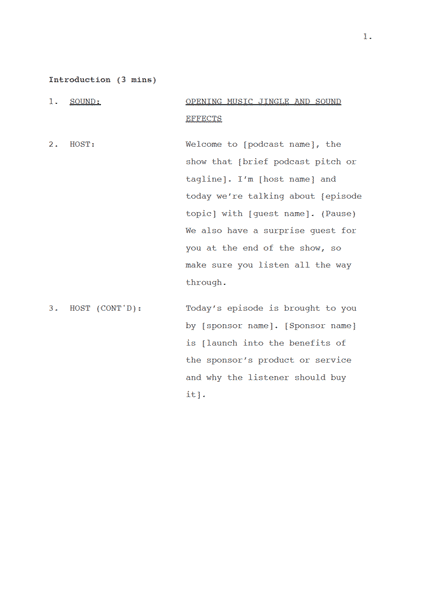 This Cohost Podcast template can ensure you and your co-host do not talk over each, forget key points, and makes sure you're on the same page about what's coming next.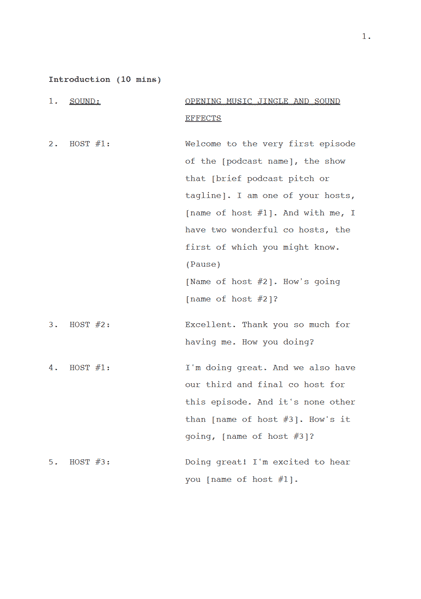 Musicals
Musicals are a type of rather grandiose theatre performance that incorporate multiple performative elements such as songs, spoken dialogue, acting and dance into one show to tell a story.
What distinguishes musicals from other plays or dramas, is that the story is predominantly told through music instead of dialogues or lines. A musical may have a script for the spoken word and dialogue, but the essence of the story is told through the lyrics of the songs instead.
Musicals have grown to become popular because of the fact that they incorporate many different art forms, with equal importance and emphasis.
Despite this, musicals are not immune from the need to have a narrative structure. Every musical script requires the following :
Central Plot
Protagonist(s)
Antagonist(s)
Central Conflict.
To write a musical your own, these musical templates can serve as the frameworks for you to work with. They allow you to input and differentiate song lyrics, dialogues, character names, act and scene numbers with ease. Using these templates would allow you to focus on the creative and performance aspects of your musical instead of the formatting.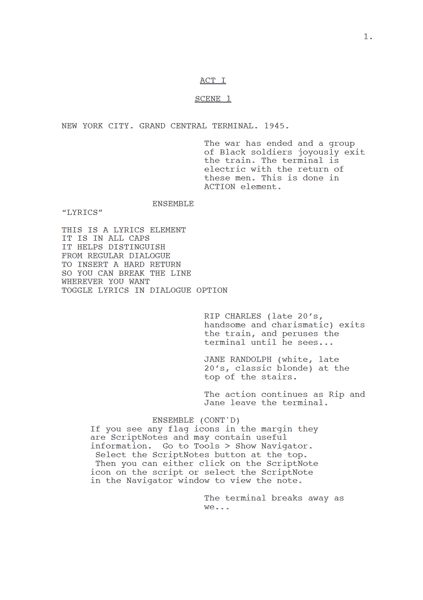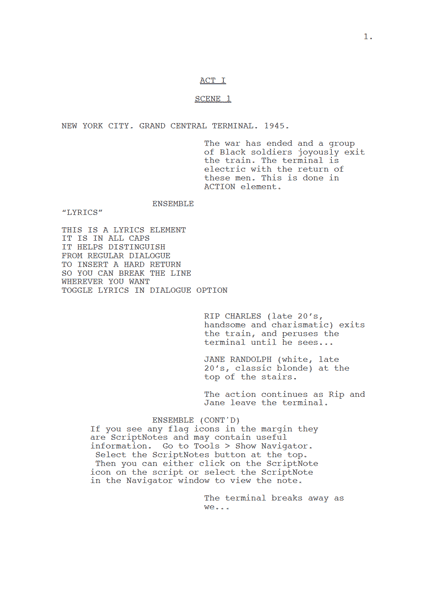 Stage Plays
Writing for a stage play, or dabbling in playwriting, involves developing a narrative and plot specifically for a live, theater production. Like writing screenplays for television or film, playwrights write playscripts for actors and characters to performs in real-time or live on stage, in front of a live audience.
A stage play involves a handful of elements at it's very core. Dialogue, drama, and action make up the crux of what you witness on stage. Whether you decide to write a full-length play, or a short and concise one-act piece, playwriting or dramatic writing gives you a great degree of creative freedom that is unlike novel writing or screenplay writing. There are different elements involved in crafting a stage play, compared to other forms of script writing.
Together with a larger, central idea, your play should also come with a central message and conflict. With these in hand, you can start developing an outline by separating your play into acts. Stage plays are divided into acts, and each act is then divided into scenes. Decide which acts you want your plot points and major story beats to unfold in. Go ahead and separate your plot points into the appropriate, respective acts.
Common play structures include
1-act play (relatively short)
3-act play
5-act play
There are different production elements in a stage play and for the producers and playwrights to take note of. Stage play script templates can guide your script and to make sure you have a well-formatted stage play script in hand by highlighting formatting requirements, such as the character names appearing against the left-margins and in capitals, the act and scene numbers appear on the same line against the left margin, and dialogue beginning on the same line as the character name.
Focus on writing your dialogues and putting together a well-thought out play with these templates.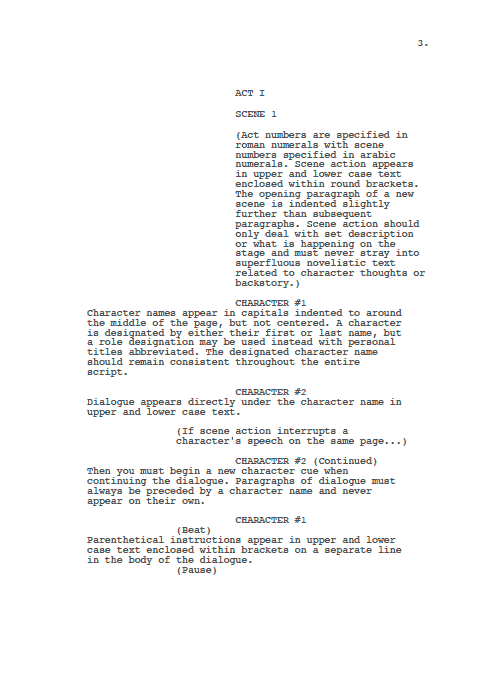 ---